Everything you need to know, from our community of experts.
Shadow of Mordor 101
For Tolkien fans everywhere, Middle-earth: Shadow of Mordor is the game you've been waiting for. With the engine and hardware of next generation consoles, it provides the player with a truly immersive experience, combining popular gameplay mechanics with its own distinct flair. The nemesis system, along with a constantly evolving environment and combat system, makes Shadow of Mordor truly unique and fresh.
In Shadow of Mordor, you are Talion -- a Gondorian Ranger who was murdered along with his family atop The Black Gate of Mordor. But Talion was not allowed peace in death; rather, he was brought back to life by a legendary Wraith who possesses his body. In order to see his family again, Talion must seek vengeance against The Black Captains of Sauron.
WB Video goes here
Wikia has been working on a revolutionary companion application for Shadow of Mordor called the Palantir.  This easy-to-use app provides instant access to all the fan-created articles, blog posts, photos, and videos from the Official Shadow of Mordor community. In Sync Mode, the app "listens" to your gameplay and delivers to your iPad mission tips, trivia and an unprecedented level of fan expertise.
By logging into your WBPlay account from the app, you'll receive real time stat tracking and the ability to view your location inside Mordor using our interactive map. Hit the sync button on the bottom carousel to link your iPad with your current location and recieve nearby quests as well as Artifacts, Ithildin and more. You can download the app for your iPad here.
Check out the video below for quick introduction and tutorial on how to use the Palantir app.
Community Essentials
Three very lucky admins were given the opportunity to come by the Wikia office recently and play the game before its release on September 30th. LordTJ, GlóinTheGreat, and TolkienIsTruth7 were busy spending time making videos, adding content to articles, and having a lot of fun! Check out their interviews below to hear what they think!
INTERVIEWS WITH JORGE GO HERE
Along with their interviews, the admins made some awesome content for a Superguide involving their own gameplay and commentary from fellow admins. Check it out below and hopefully you'll pickup some awesome tips and tricks!
SUPERGUIDE VIDEOS GO HERE
COMMUNITY POLL RESULTS GO HERE
PERSONALITY QUIZ BANNER LINK GOES HERE
Essential Trailers & Videos
Banished from Death - Fannotation Trailer
Weapons and Runes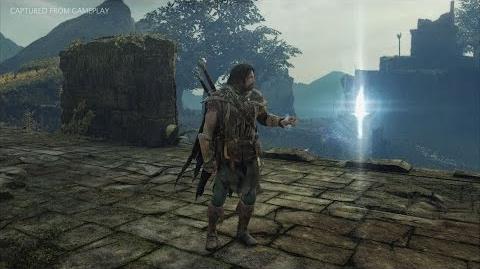 The Sons of Sauron - Trailer

The Sandbox World of Shadow of Mordor

Shadow of Mordor E3 CG Gravewalker - Trailer
Essential Images